President's Message
Vice President's Message - May 2010
I am sure everyone who attended the San Francisco Accordion Club (SFAC) meeting on Sunday, April 20 felt privileged to be there and to hear such fine artists. Mary Tokarski is a well-known artist in the Eastern United States, but we rarely have an opportunity to hear her play out here in the West.
Although I am lucky enough to work with Joe Smiell every week, it was my first time to hear his Big Band! Joe always arranges (accordion) ensemble music with the idea of an orchestra in mind, so it was wonderful to hear "the real thing."
As I listened to these wonderful musicians, I thought about the great gift that the SF Accordion Club has been in my life. Through attending club meetings and various events that I found out about through the SFAC, I have been able to broaden my musical horizons immensely!
Some fabulous accordionists will be playing at the upcoming ATG convention (in Santa Clara June 21-25, 2010), and you can hear them too!
Lynn Ewing
President's Message - April 2010
President's Message April 2010

We are taking this opportunity to review the history of the San Francisco Accordion Club on this, our 20th Anniversary. This is a good time to first examine why we formed this club, to review our achievements and to think about our future.

A few of us got together and decided to look for other accordionists with the idea of forming a club. Our goal was not clearly established at the start. We simply wanted to gather as many of us as we could to see if we could stimulate and promote the instrument we loved.

About fifteen of us gathered at Woodlake Joe's on Monday, May 7, 1990 and just got to know each other. There was a lot of enthusiasm for the idea of forming a club and just playing music. Some of the performers at our first meeting were Joe Smiell, Dan Cooper and Lou Soper. We elected our fist officers and we were off.

We invited members to participate by playing at our monthly meetings. Almost all of our members have played for us at one time or another, giving generously of their time and talent. Our local players have been the mainstay of our club to this day.

We have attracted accordionists from all of the U.S., Canada and Europe as well.

Our Mission

Throughout all of the activities of the club we have remain faithful to our primary mission as stated clearly in our By-Laws: "The purpose of this club shall be to enhance, promote and stimulate an appreciation for the accordion within the membership and to the general public."

Our Future

We continue to demonstrate our earnest hope that the accordion will gain popularity with the public as we engage in all of the activities we have described. We welcome younger members to join our club and participate in all of our activities. Building on the progress w e have made in keeping our accordion community together by the activities of this club, we encourage growth and new ideas.

The accordion is an instrument of the ages. There is no one form which defines the music produced by the performers of our instrument. What the future will be of the accordion will depend on those who play it.

Frank Montoro


President's Message - March 2010
President's Message March 2010

We are deeply saddened by the news of the passing of Art Van Damme. He was a giant in the accordion world, and he will be sorely missed. Art was well known to us here in the Bay Area and made several guest appearances at our club over the years.

Lynn Ewing has done a great job of taking us out of our local area and introducing us to accordionists from throughout our country through her descriptions of the several camps and conventions she has attended recently. She told us about the Lark Camp in Mendocino in last September's newsletter, the Las Vegas Convention in November and, most recently, the Frank Marocco Accordion Event in Mesa, Arizona. She surely gets around!
br> People who attend these events come from all over the country to share their love of the accordion. Many of them are active performers and members of their regional accordion clubs, like ours. I did a little searching on the Internet to find out more about this. I found a list of 48 other accordion clubs from around the country. And they have been around for a long time, too. The oldest, as far as I know, is the Chicago Accordion Club which was founded in 1989, one year before our present-day club was reincarnated from the original San Francisco Accordion Club, founded about 1912. One club, the National Accordion Association in Texas, has a cluster of eleven clubs around the state which form that association.

Several years after our founding in 1990, a number of clubs sprang up around ours, such as the Accordion Club of the Redwoods (ACR), the Silicon Valley Accordion Society (SVAS), the Golden State Accordion Club (GSAC), the Good Time Accordion Club (GTAC), the Northern California Accordion Society (NCAS). Remember, we changed our name from the Bay Area Accordion Club to the San Francisco Accordion Club in 2003, when Peter Di Bono became President.

Some of the states with active accordion clubs are: Arizona, Alabama, Colorado, Florida, Georgia, Illinois, Kansas, Massachusetts, Maryland, Michigan, Minnesota, Nevada, New Hampshire, North Carolina, Oregon, Texas, Utah, Virginia, Washington and Wisconsin. Two accordion clubs are listed in Canada as well.

So, folks, you see, we are not alone. The accordion is very much alive and well--and thriving! Frank Montoro


Vice President's Message - November 2009
From our Vice President, Lynn Ewing
The Las Vegas Accordion Convention 2009

The Convention this year was better than ever, the rooms inexpensive and the food quite good.

The format included one-hour classes taught by guest artists every day at 9:00, 10:00 and 11:00 a.m., and then a banquet lunch with entertainment, followed by a one-hour concert from 1:00-2:00 p.m. More classes all afternoon, dinner with music provided by the artists, then a 2-hour concert after dinner featuring 2 or 3 more of the artists. After hours, there is an "open mike" sponsored by Club Concerto. In between one can drop by the sales room with accordions, music and CD's that is open most of the time.

There was also an orchestra, conducted by Joan Cochran Sommers, that rehearsed from 3:00-5:00 in the afternoons. It was a terrific experience to play in the orchestra. There were certainly plenty of activities to keep anyone busy!

Workshops and/or concerts were given by Ron Borelli, Gordon Kohl, Mary Tokarski, Mario Tacca & Mary Mancini, Mario Pedone, Sylvia Marie Barber, Stas Venglevski, Peter & Mady Soave, Gina Branelli, Dick Contino, Art Van Damme, Pete Contino, Michael Bridge (a 16-year-old Canadian who gave workshops on composing and recording your own music, jamming and improvising).

The Convention next year is scheduled for early November, and I recommend it highly!

Lynn Ewing


President's Message - October 2009
Thanks for all of you who sent in your membership dues. If you have not yet responded, please mail your check to Val Kieser, 3437 Crane Way, Oakland, CA 94602 at your earliest convenience. We are working on our budget for the 2009-2010 year, and it is important that we know what income we can expect. Our "big ticket" items are rent, food, the newsletter, and insurance. These expenses total about 70% of our budget. We are confident that we won't have to do a "Schwarzenegger" and start making cuts, if we can maintain or increase our present membership.

On Thursday, September 24 we had a joint meeting of the old and new Executive Board members at which time we welcomed Skyler Fell, Marian Kelly and Randall Hicks. We also thanked outgoing members Gus Greyhosky, Lore Warren and Maryanne Romanowski for their service this past year. We all look forward to another successful year ahead as we strive to fulfill our mission "...to enhance, promote and stimulate an appreciation of the accordion within the membership and to the general public."

You are welcome to attend our board meetings, which are held at my home, 1448 Tarrytown Street, San Mateo at 7:00 p.m. on the Thursday following our general Sunday meeting. November and December dates will need to be changed to avoid a conflict with the holidays. We will let you know the dates in the next newsletter.

We enjoy an excellent location at the Oyster Point Yacht Club, South San Francisco, and we meet on the third Sunday of each month at 2:00 p.m. See you there!

Frank Montoro


Vice President's Message - September 2009
Our wonderful president, Frank Montoro, asked me, Lynn Ewing (your fearless VP), to write an account of my musical experiences this summer at a camp called "Lark Camp". I'm sure many folks are familiar with the "Lark in the Morning" music store in San Francisco. Let me quote a bit from the website: "Lark In The Morning Music & Dance Celebration" was started in 1980 to provide a venue to allow traditional musicians and dancers to get together and share their music & dance (A music & dance party with highly educational overtones).

Lark Camp is a weeklong open forum for musicians, singers & dancers to exchange ideas and learn without being in a rigid school structure, that takes place in the beautiful Mendocino Woodlands Redwood Forest. You are free to take as many or as few of the workshops offered as you like; there are jam sessions 24 hours a day, and 2 different big dances every evening. Approximately 700-800 campers participate in this event which has plenty of good food, new friends, and musical stimulation (although VERY primitive accommodations!).

, , , The camp is focused on "World Music". That means that there are huge contingents of people who are doing Irish music and dance, French music and dance, Balkan and Klezmer music and dance, Middle Eastern music and dance, Conjunto/Tex-Mex, Choro (Brazilian), Tango, Hawaiian and many more too numerous to mention. At any given time, there were approximately thirty or forty workshops going on in everything ranging from playing Marimbas from Zimbabwe, to singing Medieval & Renaissance sacred music, to Morris and Sword dancing.

. . . If you have never been to a music "camp". I highly recommend that you consider it. There is so much to be learned, some risks to be taken, so many wonderful people to meet, and a huge broadening of musical horizons.

. . . Thanks to Frank Montoro for encouraging me to share my experience!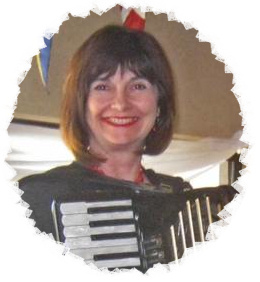 Lynn Ewing
(Editor's Note: This article has been quite drastically edited down in size. Club members will receive the complete article in the SF Accordion Club September newsletter.)
President's Message - August 2009
As we approach the date for the election of officers of our club, we might take a look at what our Executive Board has accomplished these past few months. For most of our members it is through our monthly meetings at the Oyster Point Yacht Club and our newsletter that we keep in contact with each other. A great deal takes place behind the scenes between the members of the Board, that makes our Club happen. We meet once a month as a Board to plan programs and establish policies and work on details. We keep in constant contact with each other by emails and phone calls to arrange for performers to play at our meetings, as well as many other important items that we address in order to keep our organization functioning smoothly. For your information, here are just some of these items:

We revised our By-Laws to remind ourselves of the goal of the organization. Clearly, as it is stated in Article II, "The purpose of this club shall be to enhance, promote and stimulate an appreciation of the accordion within the membership and the general public." It is left to us, as members, to develop ways to advance this goal by our collective and individual efforts.

We reinstated our non-profit status and tax exemption by filing the correct papers, thanks to the good work of Treasurer Maryanne Romanowski.

We expanded our insurance policy to add members of the Board individually in addition to our comprehensive coverage for the club as a whole.

In order to clarify the way we give our scholarships, we worked together to establish a written policy and we made this information available to our accordion teachers.

Working with members who are knowledgeable about how things work on the Internet, we established a website (www.sfaccordionclub.com).

Whenever we have our videographer available, we record performances at the Club with the permission of the participants. This practice resulted in a written policy which is made available to performers.

The election of Officers and members of the Executive Board will be held on September 20th. Prior to this date we will have established a Nominating Committee which will present their report at our August 16th music meeting/barbecue. Nominations from the floor will be accepted at the September meeting. With this procedure in place we look to another successful year ahead as the year 2010 marks our 20th anniversary .

Thanks to our loyal members and friends, we have a good thing going. We look forward to many years ahead as we work toward advancing the goal of our organization.

Frank Montoro


President's Message - July 2009
Dear Members and Friends,

It is with great sorrow that I announce the passing of one of our most beloved members, Clyde Forsman. He was one of a kind. His radiant personality, love of the accordion and generous spirit made him a very lovable person well known to our members and friends.Dear Members and Friends,

As my President's Message I would like to pay tribute to Clyde by including the obituary that appeared in the San Francisco Chronicle on June 12 by staff writer John Koopman. We think Mr. Koopman did a wonderful job describing what made Clyde such a special person. We will miss him.

Click here to read the obituary.

Frank Montoro


President's Message - June 2009
If I were young again and had it to do over, what qualities would I hope for in selecting my accordion teacher? This is a question I have asked myself many times.

First, I would want a person who was patient, and who knows how to explain the elements of music in simple, basic terms. Starting with the study of scales and quickly applying these while learning tunes that would yield immediate, satisfying results. I would expect the level of difficulty to gradually increase while introducing other elements of music, such as harmony and rhythm. I would want my teacher to stress the importance of the use of the bellows. Learning to play notes is one thing, but knowing phrasing and articulation are essential elements that have to be learned from the start.

Technique would be another important part of learning music. Starting with major and minor scales taught in a way that would be fun yet begin to provide a basis for more challenging work to develop finger dexterity. There are many ways to play scales. I would want my teacher to demonstrate them. A good part of my lesson would stress technique, but I would not want my teacher to place greater importance on playing fast over playing musically.

Playing pieces of music would take into account the element of technique, while at the same time musicianship would always be stressed. Imagine being a singer or a violinist. Would you play your pieces in jerks and unexpected bursts of volume? Feeling and expression should be expected in playing music above all. You need to learn to play "from the heart" and not just play the notes from a piece of paper. That's what makes a good musician.

I would learn the very important skill of sight reading. I would be taught the art of improvisation as well. Developing my own style of playing would be encouraged.

Finally, no music student would be motivated to learn an instrument if they also didn't expect to play for an audience. Preparing a student to play for others is a great reward in itself and deserves special attention from my teacher. I would be instructed not to select the most difficult piece, but one that I felt comfortable performing in public. Of course, throughout my music studies, the word "praise" would be the key to success.

Do you know a teacher who fits these criteria? I invite you to write a short narrative to share with the club, about a favorite accordion teacher and their qualities that inspire(d) YOU!

Frank Montoro


President's Message - May 2009
Many organizations have a person known as "Historian" whose job it is to maintain a written account of activities along with photographs and other items of interest. It is a way of documenting events of the past which demonstrate how the organization is fulfilling its purpose, as a guide to current members.

While we have not maintained such a position, we have served the same function principally through the use of our newsletter. Since 1990 we have maintained a steady accounting of our club's activities on a monthly basis thanks to the work of the editors and contributors over these past nineteen years. Some of us kept all of the issues of the newsletter, and last year member Bob Smith turned these into a single DVD so that we have a complete account of our club's history.

A second way of recording our activities was by videotaping our monthly music programs. For many years one of our members, Ed Zaro, produced VHS tapes on his own and made these available to individuals who requested them for a small fee. When Ed passed away a few years ago, he left the tapes for the club. As you can imagine, there were many boxes of the tapes that accumulated over these years, and again it was Bob Smith to the rescue. He has been working at changing these tapes to DVD's for us. Many of the tapes are too old, but he is doing what he can to restore the more recent ones.

We tried to interest someone else to continue taping our music programs, and a few people have done it from time to time, but it was not until friends of one of our members, Sally and Don MacKenzie, volunteered to take up the project recently, that we once again began having our musical performances recorded. Their equipment is much more professional than any we have seen, and they have been experimenting with lighting as well as the audio aspects of producing DVD's of a higher quality.

Knowing that some performers may have reservations about being recorded for whatever personal reason, we have decided to ask their permission before proceeding. We have produced a consent form for thispurpose.

Frank Montoro


President's Message - April 2009
PRESIDENT'S MESSAGE April 2009

What do these folks have in common? Alex Roitman, Renee de la Prade, Sheri Mignano, Gabe Soper, Rich Kuhns, Aaron Sieman, Rob Reich, Jeff Trabucco, Naomi Zamir, Skyler Fell, Dan Cantrell? They are some of the young accordionists who have played for us recently or are scheduled to play for us soon. We are very pleased that they have come forth and volunteered to participate in the club's activities by playing for us. One of the things I know about how clubs such as ours grow is by welcoming younger members. They bring different musical styles and provide a balance necessary to the vitality of our club, and so we welcome them for their special contribution.

On another subject, Randy Hicks will be sharing duties with Val Kieser in producing our newsletter, starting with the March issue. Randy will be the new Production Editor, taking over some of Val's many duties. For too long Val has handled everything from soup to nuts and needs a break. She will continue describing our Sunday programs while Randy handles such duties as formatting and production. It is very difficult to find people with the computer skills required to do the job, as we found out. Randy has volunteered and we are truly grateful to him for taking over this task. We know he will maintain the high standards that Val has set and we thank him.

The Board should have our scholarship guidelines ready to distribute to all accordion teachers shortly, and we will be working on a policy for recording music at our meetings. In addition, we are studying various insurance plans and will act on these before June. Remember, you are welcome to attend our Executive Board meetings, and we gladly accept your suggestions in writing anytime.

Frank Montoro


President's Message - February 2009
PRESIDENT'S MESSAGE February 2009

We are very pleased to be able to present so many entertaining programs at our monthly musical meetings. We are fortunate to live in an area where there are so many fine musicians who are willing to share their talents with us. While some of them are our own members, we attract visitors from around the country and the world who play for us when they are here. We constantly search for talent and get together as a board to work out a schedule. Of course, our work is made easier when they contact us instead. And we gladly accept your suggestions of players who might be interested in coming to us at some future date. Just contact any board member with your ideas.

I thought you might like to know what is ahead for the next few months. This is a tentative schedule, subject to changes as needed.

March 15: our Sacramento-area-based group, the Accordion Magic 5, will be back to play for us with some fine new arrangements. They will also take turns playing solos. This group plays tunes, most of which are familiar to us, done in interesting arrangements.

The second half of the program will feature our own Peter Di Bono, certainly one of the very best musicians around. Peter will bring with him two excellent musicians to produce some very sweet sounds. Violinist Harriet Newhart and bassist Steve Hanson complete the trio.

April 19: To keep things in the family, we will have Peter's brother Reno Di Bono who will bring his trio back for another of his outstanding programs featuring a variety of pop tunes, jazz and a smattering of Italian music, with Reno doing the vocals. The second part of the program will see a return of the San Francisco Accordion Chamber Ensemble, with Joe Smiell conducting. Included among his original arrangements will be Cowboy Rhapsody, American Sketch, and Grande Marcia Italiana.

May 17: Alex Roitman, a student of Peter Di Bono, will bring his tango band which he calls "Tangonero", to the club for their first appearance. We look forward to hearing them. Steve Balich from the North Bay will bring a few of the members of his band to play the second half of the program. Steve is well known to us and is one of the most beloved figures in the accordion community. He will have you dancing in the aisles, or at least tapping your toes to his music.

In addition, there will be more individual players and groups planning to play for us in the months ahead. We are working to schedule the "Wild Irish Rovers" and Absolut Accord, for instance, and we have yet to complete arrangements with others. An outstanding East Coast accordionist, Amy Jo Sawyer, is interested in coming to play for us while she is visiting out here. Also an old friend of ours, Stas Venglevski, is planning a trip to the West Coast, and we hope to snag him if we can!

On August 16 we will have our annual club barbecue, and the entire entertainment program will be up to you. We invite everyone who plays accordion to play a few tunes for us. If you were with us last year you will remember the great time we had. It's Open Mike!

So, come and enjoy! Remember it's every third Sunday of the Month, 2:00 p.m. at Oyster Point Yacht Club!

Frank Montoro


---
President's Message - January 2009
PRESIDENT'S MESSAGE January 2009

As a member of the SFAC, I thought you would like to know the following: The State of the Club is sound. Get it? Sound, music? And very presidential too.

Let's look at the following categories as we look back to 2008 and plan for the new year.

FINANCE: Treasurer Maryanne Romanowski has done an excellent job of keeping track of our money. She presents a "Profit and Loss" statement each month to the Board of Directors. Currently we have a healthy balance of $14,604. Our monthly expenses and income are usually in balance. Rental and food costs at our monthly meetings are offset by the door admissions, and while these vary depending on attendance, they balance out over the year.

In addition to her usual duties, Maryanne successfully was able to reapply for our tax- exempt status as a club this year, which we had allowed to lapse.

MEMBERSHIP: Val Kieser maintains a list of paid-up members and receives the dues, which are then deposited by Maryanne. Unfortunately, there are always a few members who choose not to continue, and she is obliged to drop them from the rolls after a grace period.

Our current membership is 243 members (i.e. newsletters mailed), not including Lifetime members, past presidents, and honorary members. Recently we began transferring a few of Val's duties to Maryanne as Treasurer to relieve Val of one of the many hats she wears. The transition is going smoothly.

SCHOLARSHIPS: Thanks to member Evelyn Baulch and our monthly raffle, we raised enough capital to grant five scholarships of $250 each to deserving accordion students. Half of the money raised went toward our scholarship fund and the rest to the lucky members who drew the right numbers. Vice President Lynn Ewing is currently working on some new scholarship guidelines which will be made available to all accordion teachers when it is completed.

INSURANCE: Board members Gus Greyhosky and Maryanne Romanowski are currently studying various insurance plans that will include coverage for the Board as well as the club. Coverage is expensive and we need to be assured that it will cover all of our concerns.

NEWSLETTER: One of our pride and joys is our monthly newsletter. Up to now it has been the job of one sole member, Val Kieser, who has been doing the job for years. To relieve her of some of the tireless work of compiling, editing and publishing the newsletter, including photography, we were able to recruit member Randy Hicks to take over the formatting/production as of this coming April, and we thank him sincerely. Some others also will help with writing up the musical meetings.

PROGRAM: All of the Board members share in the job of recruiting participants to play at our monthly meetings. Because Val is so well known to the accordion world, she is often contacted by guest accordionists who plan to be in our area and ask to play for us. We depend on our members to volunteer to play, but sometimes we get together and assign a specific board member to act as contact person to issue an invitation. We are pleased that so many new people have played for us this past year, including a number of younger players.

We were a sponsor of the recent Accordion Babes calendar project as a way to advertise our club to the broader accordion community; the project was a huge success. Our club meeting dates are indicated in every month of the calendar.

FINALLY: Thanks to of you who participated in some way to make 2008 another fine year.

Frank Montoro


---
President's Message - December 2008
PRESIDENT'S MESSAGE December 2008

Accordionists! Where are you? I recall when we began our accordion club back in 1990, most of those who attended our meetings were active accordionists. We were a small group then, but we seldom failed to show up and participate, either to play or just to listen to others perform.

While our membership has grown, it seems that fewer active accordion players show up now. Our audience, bless them, are mostly people who grew up hearing the accordion and enjoy listening to the sounds of their favorite instrument. But, I ask, where are the players who come to be part of the audience? While many of you are generous in sharing your time and talent to come and play for us occasionally, we would like very much to see you more often as part of our entire accordion family-as audience members too.

And speaking of performance, we haven't heard from some of you for quite some time. I could name more than a dozen players who haven't played for us for more than a year, but I won't, for fear that I might leave some off my list unintentionally. But, you know who you are. We miss you and need you to keep our club entertainment going.

We are glad you maintain your membership and therefore your support. Now I am asking you for your participation too. Let any of our Board members know when you would like to play, but please attend even if you come just to listen to others. You don't know how vital you are to other fellow accordionists. You inspire us as well as entertain us. Let us know how much time you need so we can plan our program. Let's hear from you soon!

Have I made my point?

Frank Montoro

CLUB NOTES December 2008

The San Francisco Accordion Club's annual Christmas Party was, as always, a very festive occasion. All four living founders of the club were present: Dominic Palmisano, Rusty Bartoli, Walter Traverso and Jim Holliday. MC for the afternoon was Gus Greyhosky. Pre-meeting Christmas music was provided by Val Kieser and Bob Smith.

The music program started out with Randy Hicks and Val Kieser who played three Christmas duet pieces. Then we had the now-traditional, and totally delightful, presentation by Lynn Ewing of her two novelty Christmas pieces, "I'm Gettin' Nuttin' fro Christmas" and "The Twelve Days of Vacation."

We had the very pleasant surprise of hearing Grigoriy Krumik play some terrific pieces on his brand new Excelsior bayan: A Russian piece and Piazzola's Libertango."

Next came the San Francisco Accordion Band, affectionately called the "Fun Band," which played nine Christmas numbers.

The Fun Band was followed by a very special birthday presentation: this very day was the birthday of Vince Cirelli, who is doing well after many trying months and who did a splendid job of cutting the sheet cakes bought for the occasion.

The second half of the meeting featured the San Francisco Accordion Chamber Ensemble in a program of classical and Christmas music, under the direction of Joe Smiell, who also wrote all the arrangements.

More details of the musical afternoon will be found in the upcoming January newsletter.


LATE ANNOUNCEMENT
It is with great sadness that we announce the untimely passing of Thomas Bruno of New Kensington, PA on December 29, in a tragic accident where a tree fell on him while he was cutting wood for the fireplace. Tom, age 36, was a young, energetic, enthusiastic, and always optimistic treasure of the accordion world. He had a thriving accordion repair/restoration business and was one of the finest players in the country, specializing in the music of his idol, Charles Magnante. Tom will be sorely missed.
---
President's Message - November 2008
PRESIDENT'S MESSAGE November 2008

One of my favorite car bumper strips is the one that says, "If you can read this you can thank a teacher". I suppose this thought can apply to almost any skill that is learned, from art to architecture. It takes one to teach one as the saying goes. And so, when I was browsing through my copy of "The Golden Age of the Accordion".* I was struck by how many famous accordionists of the past have also been great teachers of our instrument. It wasn't enough that these fine musicians were great performers, but they also found a need to pass on their skills to others.

Three fine gentlemen, Ronald Flynn, Edwin Davidson and Edward Chavez spent years compiling a book that was a collection of facts, figures, photos and memoirs of the early days of the accordion. It was published in 1984 and revised in 1992. Our own Vince Cirelli also was a major contributor to this book. The pages of the book tell about great musicians such as Pietro Deiro, Anthony Galla-Rini, John Molinari, the Pezzolo brothers and countless others who were teachers as well as performers. Many of their students are still around, and have become stars in their field, and many have chosen to devote a part of their lives to passing on their art to others through teaching.

Today we still have those in our community who continue the tradition. It takes a special skill to be a teacher. You need to divide an element into segments which progress from the simple to the more complex. Encouragement and patience are prerequisites to being a successful teacher. Not all of us are endowed with these. Those who are, play a key role in keeping our instrument a vital part of the music world.

We will probably never have the numbers we once had when music schools gathered at Fairfax Park in Marin County in the hundreds for their annual picnic. The music field has changed, but there are still interested students and gifted teachers around. See "Teacher Listings" to locate some of them close to home.

Frank Montoro

* For more information about the book, The Golden Age of the Accordion, contact Flynn Publication, 917 Antler Drive, Schertz, TX 78154-1101


Club Info
Organizations
Artists
Dealers
Repair