Featuring Paul Pasquali!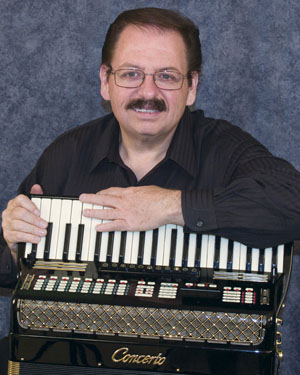 When it comes to the San Francisco Accordion Club, Paul Pasquali is not just our featured performer - he is family. Paul was very active on the Accordion scene in the Bay Area as a teacher and performer, part owner of the internationally renowned Colombo and Sons Accordion Corporation of San Francisco and as a member of our own Executive Board.
In 1992 Paul sold his interest in Colombo and returned to his home state of Utah to found Accordions International with a clear purpose in mind. After two years of intense research and development, working with electrical engineers, software developers and musicians, his dream child was born - the Concerto - the world's first truly digital AND accoustic accordion. The Concerto is an acoustic instrument manufactured in Castelfidardo, Italy to exacting specifications, to which state-of-the-art "electronic wizardry" is added here in the U.S., giving the performer "the power of a full symphony." Paul will be demonstrating the power and versatility of this amazing instrument.

Paul's activities don't end here, however. In 2000, he founded the Las Vegas International Accordion Convention which is now in its 17th year! This year's event will be held August 8th through the 11th.
Visit www.accordionstars.com for more information and to register for this spectacular event.

Our programs are always open to the public!