Featuring Stas Venglevski, Bayonist!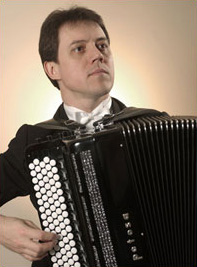 Artistry, dazzling technical command, and sensitivity have brought Stas Venglevski, a native of the Republic of Moldova, part of the former Soviet Union, increasing acclaim as a virtuoso of the bayan. A two-time first prize winner of bayan competitions in the Republic of Moldova, Stas is a graduate of the Russian Academy of Music in Moscow where he studied with the famed Russian bayanist, Friedrich Lips.

Stas' repertoire includes his own original compositions, a broad range of classical, contemporary and ethnic music. He has toured extensively as a soloist throughout the former Soviet Union, Canada, Europe, and the United States and he has performed with symphony orchestras throughout the United States, including world premieres of Concerto No. 2 by Anthony Galla-Rini and of Bayan and Beyond, composed for Stas by Dan Lawitts.