A Tribute to Michele "Mike" Corino (1918-2017)
with Ron Borelli and Mike Zampiceni!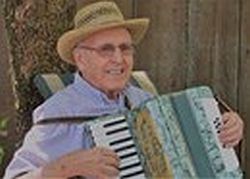 Ron Borelli
and musical friends
Ron Sfarzo
and
Mike Zampiceni
will perform compositions by legendary Bay Area band leader and accordionist
Michele "Mike" Corino
.
Mike grew up in the small town of Costino in northern Italy where his talent was quickly recognized by the famed Italian band leader Cinico Angelini. Maestro Angelini promptly recruited Mike into his orchestra, the
Orchestra da Ballo dell'EIAR
, as accordion soloist. The EIAR Dance Orchestra performed regularly on the radio and fame and fortune led Mike to branch out on his own, forming his own orchestra and making many studio recordings of both singles and albums. By this time Mike was also an accomplished composer with over 30 compositions to his credit. One favorite of so many is
The Crazy Accordion Polka
(Fisarmonica Impazzita)
.
After World War II Mike immigrated to the United States settling in San Francisco. He continued his career with the Corino Orchestra, entertaining Bay Area Celebrities and at family events for the next 60 years. In North Beach, Mike established Corino Music to sell and teach accordion. Mike trained a new generation of accordionists, many of whom went on to become professional accordionists themselves.
On July 15, we will also hear Mike Corino's famous trio, the
Godfathers
, with
Vince Aguiar
on Clarinet,
Joe Miseli
on Mandolin and vocals and
Ron Borelli
, taking the place of Mike as accordionist.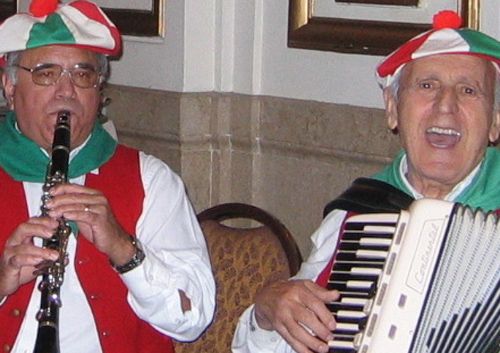 On-stage Mike Corino is remembered for his animated style and dynamic showmanship; off-stage, for his contagious sense of humor, boisterous laugh and friendly personality.
Please join us in a tribute to this bigger than life musical legend.
Also performing before our main event will be
Siyuan Donnelly
, age 8;
Zane Sy-Quimsiam
, age 7; and club members
Don Savant
and
Dr. Daniel Cher
. All 4 are studying with
Mike Zampiceni
and have shown great talent under his guidance.
Come join us! Our programs are always open to the public!
The San Francisco Accordion Club is a 
501(c)(3)
 tax-exempt charitable organization whose purpose is to enhance, promote and stimulate an appreciation for the accordion within the membership and throughout the general public. Donations are tax-deductible and gratefully accepted by using the
Donate
button at the left or by mailing your contribution to the 
Club Treasurer
.