Our Featured Performer for February is Tangonero!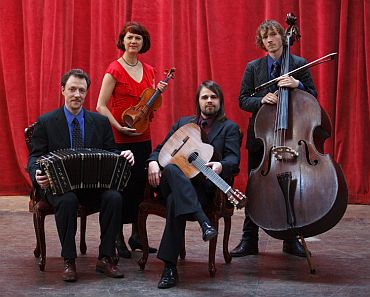 We are pleased to welcome Tangonero back on stage at the San Francisco Accordion Club. Tangonero is an Argentine Tango band based in San Francisco that specializes in classic tango — a genre that fuses intense passion with quiet tenderness, alternating sharp percussive rhythms with slow nostalgic melodies. It squeezes your heart to tears and then sets your feet to dancing.
The ensemble features Alex Roitman on bandoneon, Michele Walther on violin, Jacob Johnson on double bass and Zac Selissen on guitar. You can find more information about Tangonero by visiting www.tangonero.com.

Our programs are always open to the public!